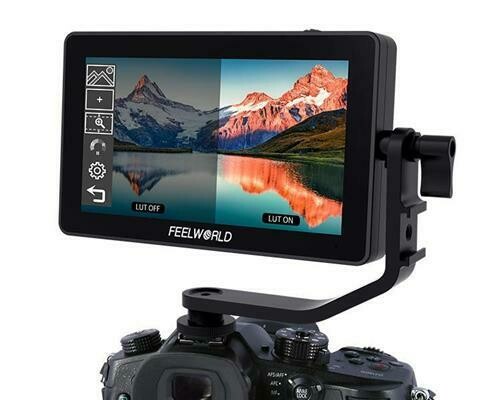 Feelworld F6 PLUS 5,5" Touch Monitor
F6PLUS
Produktbeschreibung
Monitoring Tools with Quick Accessibility
The F6 PLUS keeps the original great: it's small, lightweight and has great image quality. In addition, it now features the touch screen and has the ability to import 3D LUTs via the SD card. The F6 PLUS is the perfect monitor for those who need an easy-to-use lightweight on-camera monitor such as gimbal operators, or shooters that are always on the go.
Its touchscreen conveniently allows you to zoom your image with a pinch gesture and tap to access the menu settings. There are also a variety of onscreen tools to help you set up your shots, including histogram, peaking, embedded audio, exposure, false color, zoom, guides, pixel-to-pixel, anamorphic mode, image freeze and more.
Light and Slim Design, Only 235g
The F6 PLUS is 5.5 inch and only 235g, and makes it the ideal size and weight for field production. The entire monitor's build is sturdy and compact, allowing you to easily mount it to your DSLR camera or even a gimbal stabilizer. It gives you the freedom to shoot well anywhere.
1920x1080 Display with Rec. 709 Color Calibration
The 5.5" IPS screen features a 1920 x 1080 resolution, packing 400 pixels per inch and provides a wide viewing angle of 160° and for easier off-axis position monitoring. Built-in 3D LUT color calibration, which complies with the standard of REC-709, can calibrate each monitors so that it can eliminate the trouble of color cast.
Easy Touchscreen Controls, Freely Zoom In and Out
OCR Full-fit Screen Design
The monitor uses OCR full-fit technology and high-strength, scratch-resistant, impact-resistant glass.
Use simple tap and swipe gestures to make adjustments!
The built-in monitor is also an interactive touchscreen that makes setting up the F6 PLUS incredibly intuitive. All of the functions are at your fingertips, allowing you to use simple tap and swipe gestures to change function settings. You can easily and intuitively zoom in and out of your shot with the pinch-to-zoom gesture.
Support Touch Screen and Button Control Menu
●You can also get a quick glance at your menu settings and features with an easy tap on the screen.
●It also supports physical buttons control. Tap/Rotate the wheel button for quick selection and function settings.
●Tap the power switch to turn off the touch function, designed to prevent misuse.
3D LUT Color Calibration and Real-time Preview
User LUT cube import
F6 PLUS provides S-log2/3, V-log, Log-C etc, to convert log mode to REC709 for all major cameras. The LUT loading function makes the color calibration work of the previous shooting easier and more intuitive, optimizes the workflow and improves work efficiency. User creative 3D LUT cube or calibration 3D LUT cube can be uploaded to F6 PLUS by SD card.
4K HDMI Input & Loop Output
The F6 PLUS has 4K HDMI in and loop-out, allowing it to not only display live signals, but also send them out to other monitors simultaneously. It's the ability to display live picture on multiple displays at once while still maintaining the original video quality. Plus, you can monitor audio using the 3.5mm stereo headphone jack.
HDMI Output Application
Connect to Wireless Transmitter
Transmission to film crew director monitoring at the same time. Without the cable more flexible to transition between scenes effortlessly for outdoor shooting.
Connect to Director Monitor
Display live picture on multiple displays simultaneously.
Connect to Projector
At the concert, live broadcast, conference, you can connect to project display real-time images.
Power Your DSLR or Mirrorless Camera
The FEELWORLD F6 PLUS is an ideal camera-top monitor for DSLR and mirrorless camera shooters. Because the F6 PLUS provides auxiliary power out; allowing shooters to power their cameras. With a battery adapter cable (Optional), the F6 PLUS extends camera run-time, while providing a more usable display.
Flexible Dual-purpose Battery Plate
Compatibility with Sony F970 and Canon LP-E6 of lithium batteries for one battery plate. Providing long-time working condition for cameraman in shooting applications.
Convenient Mounting - Tilt Arm
Every F6 PLUS monitor will ship with a cold shoe mounted Tilt Arm. Shooters will have a secure way to position their monitor while maintaining a low profile.
• Allows the F6 PLUS monitor to rotate 360 degrees for viewing convenience
• Secure and lightweight mounting via shoe mount or 1/4"-20 thread
• Includes a shoe mount of its own for accessories like a microphone, LED light, or wireless receiver, etc.
Flexible Install Both on Camera and Gimbal
To convenient the various angles monitoring
FEELWORLD F6 PLUS features standard 1/4" mount points (top, bottom, right) for attaching it to cameras and rigs. Not only you can install it on a monitor through tilt arm, but also you can mount it on a handheld stabilizer or securely attach it to the top of your camera as the ultimate HD viewfinder! If you install it on the bottom of the device, you can also combine the image flip function to maintain the correct orientation of the screen!
Portable Sunshade, Easy Install
The F6 PLUS monitor is equipped with a sunshade, which allows the photographer to focus more on the video and avoid the interference of strong light, providing a better visual experience. The installation process is simple and fast, which is very suitable for outdoor shooting.
Display Spec.
| | |
| --- | --- |
| Model | F6 PLUS |
| Screen Size | 5.5" Touch Screen |
| Resolution | 1920x1080 pixels |
| Pixel Pitch | 0.0639 (H) x 0.0213 (W) mm |
| Aspect Ratio | 16:9 |
| Brightness | 500cd/m² |
| Contrast Ratio | 1000:1 |
| Backlight | LED |
| Viewing Angle | 80°/80°(L/R) 80°/80°(U/D) |
Input
Output
| | |
| --- | --- |
| 1 X HDMI | HDMI |
| 1 X DC Output | DC Output |
Audio
| | |
| --- | --- |
| Audio | 3.5mm Stereo Headphone |
HDMI Input/ Output Support Format
480i/576i/480p/576p
1080i (60/59.94/50)
720p (60/59.94/50/30/29/25/24/23.98)
1080p (60/59.94/50/30/29.97/25/24/24sF/23.98/ 23.98sF)
4K UHD 3840×2160p (30/29.97/25/24/23.98Hz), 4096×2160p (24Hz)
General
| | |
| --- | --- |
| Input Voltage | DC7~24V |
| Power Consumption | ≤9W |
| Power Connector | DC |
| Working Temperature | -20°C~55°C |
| Storage Temperature | -30°C~65°C |
| Install Way | ¼-20 thread points (top, bottom, right) |
| Unit Size | 148Lx93Hx20D (mm) |
| Unit Weight | 235g |
Advanced Features
* Support 3D LUT Log to Rec.709, user 3D LUT Upload
* Support Touch Menu
* Brightness Histogram
* Peaking Focus Assist (red, green,blue, white, yellow five peaking colors optional; 1~10 peaking level adjustable)
* False Colors
* Zebra Exposure (1%~100% adjustable)
* Check Field (red, green, blue, gray)
* Scan Mode (Under Scan, Over Scan)
* Anamorphic Mode (1.25x, 1.33x, 1.5x, 2.0x, 2.0x mag)
* *Flip H/ Flip V (All open, H/V flip)
* Image Freeze
* Center Marker
* Safety Marker (70%, 80%, 90%, 16:9, 16:10, 4:3, 5:4, 1.85:1, 2.35:1)
* Marker Color (red, green, blue, white, black, yellow)
* Ratio Marker (16:9, 16:10, 4:3, 1.85:1, 2.35:1)
* Color Temperature Adjustment
* Zoom (100%~300%)
* Aspect Ratio
* Pixel to Pixel
Dimensions (Unit: mm)
Standard Accessories:
1× Micro HDMI Cable
1× Sunshade
1× Tilt Arm
1× Manual